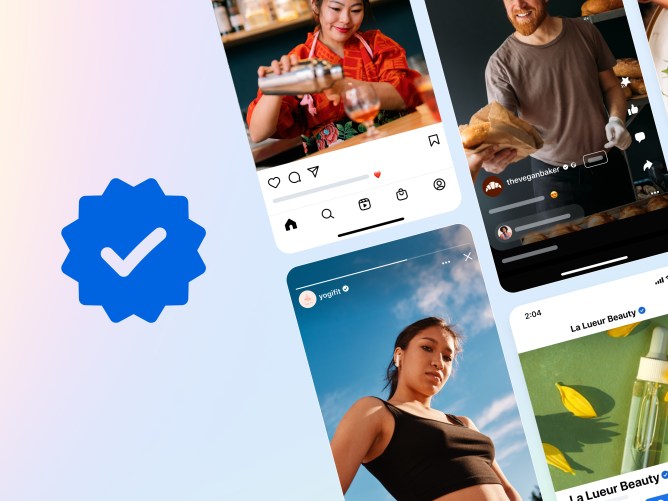 Earlier this year, we introduced Meta Verified for creators, a subscription bundle to help creators more easily establish their presence on Instagram and Facebook. Today at Meta's Conversations Conference in Mumbai, Mark Zuckerberg announced we will soon expand Meta Verified to businesses on Instagram, Facebook and WhatsApp. 
We'll start with a test in the coming weeks for businesses on Instagram and Facebook in select countries – and will expand to businesses on WhatsApp in the future. 
Meta Verified is built to help businesses more easily stand out on our apps and build confidence with their customers, including letting their customers know they're chatting with the right business. Businesses can choose whether they'd like to subscribe for one subscription on a single app, or a bundled subscription across Instagram and Facebook, and in the future WhatsApp. With a monthly subscription, businesses will gain access to a toolkit for their subscribed Facebook page, Instagram professional account or WhatsApp phone number that includes:
A verified badge confirming your business is validated and authentic¹

Proactive impersonation monitoring for added brand protection

Access to support and help troubleshooting account issues²

New ways to be discovered:

On Instagram and Facebook, subscribers will be featured as a Meta Verified business,

including appearing at or near the top of search results and as a recommended verified business to follow in feed.³

 

WhatsApp business subscribers will receive additional premium features including the ability to create a custom WhatsApp page that is easily discoverable via a web search, and multi-device with chat assignment support so multiple employees can respond to customers.
A Meta Verified business subscription complements the existing free and paid tools available to businesses on our apps today. We're starting with subscription features that help small businesses achieve what they want most on the platform: to establish their brand and be discovered by new customers. As we learn from initial testing, we'll continue to evolve our business offerings to add more value for businesses of all sizes, such as more tools for people to easily discover and engage with verified businesses on our apps. 
Meta Verified business subscriptions will be available for purchase on Instagram and Facebook in the coming weeks in select test countries. Monthly subscriptions start at $21.99 USD/month per Facebook page or Instagram account, or $34.99 USD/month for both.4 On WhatsApp, we'll begin testing in the future with small businesses using the WhatsApp Business app before introducing Meta Verified to businesses on the WhatsApp Business Platform.5 
Building safeguards from the start
Just as we did with our creator offering, Meta Verified for businesses is built with safeguards in mind from the start. We want businesses to feel confident their brands are protected on our apps, and people to feel confident the verified businesses they interact and message with are legitimate. As such, we've built a multi-step verification process and various checks into Meta Verified before, during, and after a business subscribes. For Instagram and Facebook subscriptions: 
Businesses must meet eligibility requirements, including minimum tenure of Business Account and selected Facebook page / Instagram account, minimum page/account activity, and have 2Fac turned on.

Business information must be validated and applicants must verify their connection to the business with methods such as phone number, email or domain verification.6

Subscriptions include proactive monitoring for business impersonation.
Learn more about Meta Verified for businesses here.
1. When you subscribe to Meta Verified on Instagram, the verified badge will also appear on Threads, if applicable. When you subscribe to Meta Verified on Facebook, the badge will also appear on Messenger, if applicable.
2. Subscribers who advertise with Meta already receive the Meta Verified Instagram and Facebook account support benefit.
3. All Meta Verified subscribers and their content must meet our Terms of Use and Community Guidelines. All content will be treated according to our existing guidelines for recommendations on Instagram or Facebook and our Content Guidelines. Subscribers will appear at or near the top of search results when a user query exactly matches a verified business name.
4. Subscriptions purchased on mobile are $27.99 a month per Facebook page or Instagram professional account. At this time, businesses purchasing on mobile are limited to 1 business asset subscription (Facebook page or Instagram pro account).
5. WhatsApp subscription pricing is not yet determined.
6. Once verified, businesses may not change business details such as name or profile picture. In the future, Meta Verified businesses that wish to change their business details will need to undergo verification review again.
The post Expanding Meta Verified to Businesses appeared first on Meta.