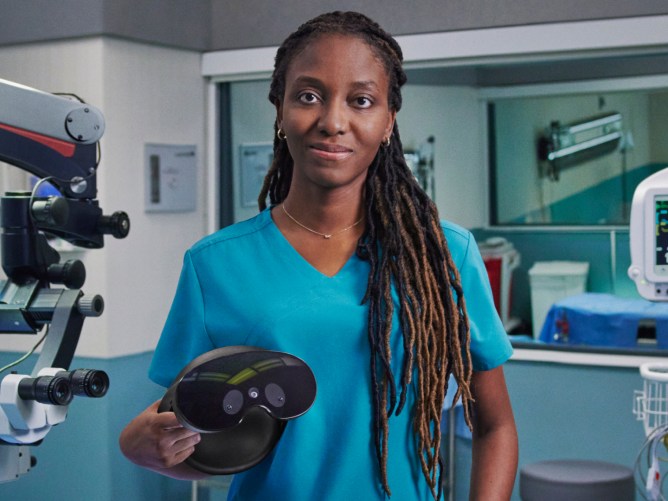 Imagine if doctors could practice surgery in a realistic, risk-free way – with virtual reality (VR) that's already possible and happening today.
Training for surgery is just one of the many industries being transformed in ways that are positively impacting lives. Today, we're sharing some examples of how people and businesses around the world are using these immersive technologies and the tangible impact they're having.
Surgeons Train in VR
"With more than 5 billion people worldwide lacking access to safe surgery due in part to a shortage of trained surgeons, the ability to train in a safe and accessible environment can make a significant impact in countries where access to advanced surgical training is limited. Studies have shown a remarkable improvement in the quality of training and patient outcomes when using immersive surgical training. Our virtual learning platform, Fundamental Surgery, enables medical teams to perfect their precision skills in a risk-free environment, instilling confidence in them to operate in real-life scenarios with the utmost competence. With the integration of haptic feedback, we have observed a significant improvement in surgical proficiency."  – Richard Vincent, CEO & Co-Founder, FundamentalVR
Athletes Practice Their Skills in VR
"When I've been recovering from injury, I've found that using technology, especially using VR for training, keeps me connected to the pitch, enhancing my skills without straining my body. Immersive technologies like these aren't just changing games, they're transforming lives across industries, amplifying our potential and reshaping what's possible." – Marcus Rashford, English Premier League footballer
"Virtual reality is transforming the way athletes of all levels train. Across the sports we work in with Rezzil, the biggest impact we see when virtual reality is introduced in training programs is greater confidence and competence in athletes because it provides the ability to analyze their movements and cognitive skill sets at a deeper level. For our Formula One partners it is improving skills like their environmental reaction and real-time responses to high stress scenarios that better equip drivers to go out on the track. With our football partners, it is practicing precision without added physical strain, for example when heading a ball." – Andy Etches, Founder & Sports Director, Rezzil
Welders Gain Hands-On Experience in VR
"We have found that virtual reality and Ocuweld, a first-of-its-kind proprietary VR app, effectively eases the stress that's linked to making on the job errors and instead empowers students to concentrate on the key aspects and maintain their engagement and enthusiasm during the learning process. This on-demand training also makes students more employable since they can practice for extended amounts of time outside of the lab." – Mary Kelly, President and CEO, StrataTech
Aviation Companies Use Virtual and Mixed Reality to Train Mechanics and Crews
"Virtual and Mixed Reality are already being used in product development, training, and sales. Be it in the presentation of our latest product innovation Lufthansa Allegris and Swiss Senses to our customers, in the training of our crews or the training of our mechanics on virtual engine models. Additionally, we hold product events for our passengers in the metaverse and train our Service Center agents worldwide. By doing that, we are reaching significantly more people in a shorter period compared to using classical methods alone and improving their experience." – Heike Birlenbach, Senior Vice President Customer Experience, Lufthansa Group
Students Use AR and VR to Better Understand Molecules
"Nanome brings new life to visualizations in chemistry, which have long relied on 2D textbooks and computer images. When students use virtual reality to model structures in 3D, they can immerse themselves and engage with molecular data on a whole new level. You can't engage with a textbook in the same way where you reach in, grab the molecule, edit the structure and move it around to fully conceptualize its makeup. By making science more accessible in this way, we see a meaningful increase in engagement and a greater intuition for concepts. This is the future and it's able to be used today."  – Steve McCloskey, Founder and CEO, Nanome
The positive impact of immersive technologies is already apparent, and as metaverse technologies continue to progress, we expect even more opportunities will emerge to maximize the benefits of these innovations.
See more about how people are using metaverse technologies today.
The post For Those Using Metaverse Technologies, the Impact Is Real appeared first on Meta.