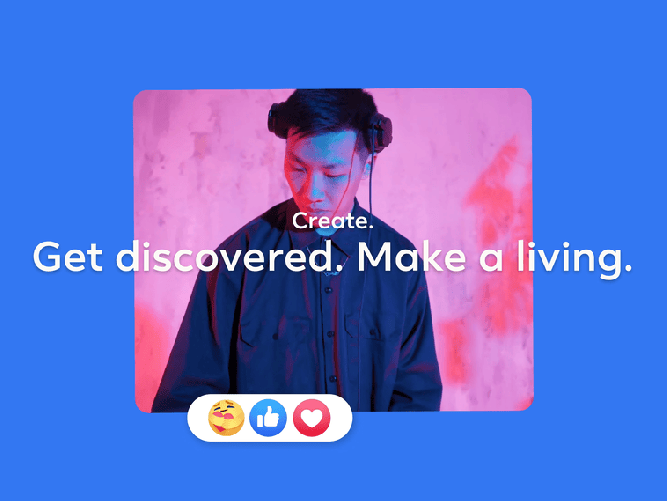 Today we're sharing our latest updates for creators, making it easier than ever to create Reels, build an audience with professional mode for profile and earn a steady income on Facebook. 
Making Reels Just Got Even Easier
From inspiration to simplified creation, we're making it easy to produce fun and creative reels on Facebook. 
To help inspire fresh content ideas, we've added an Inspiration Hub in the Professional Dashboard to gather popular reels, hashtags, topics and music. And the new Templates Hub in the Reels Composer displays trending templates that you can use to easily create reels.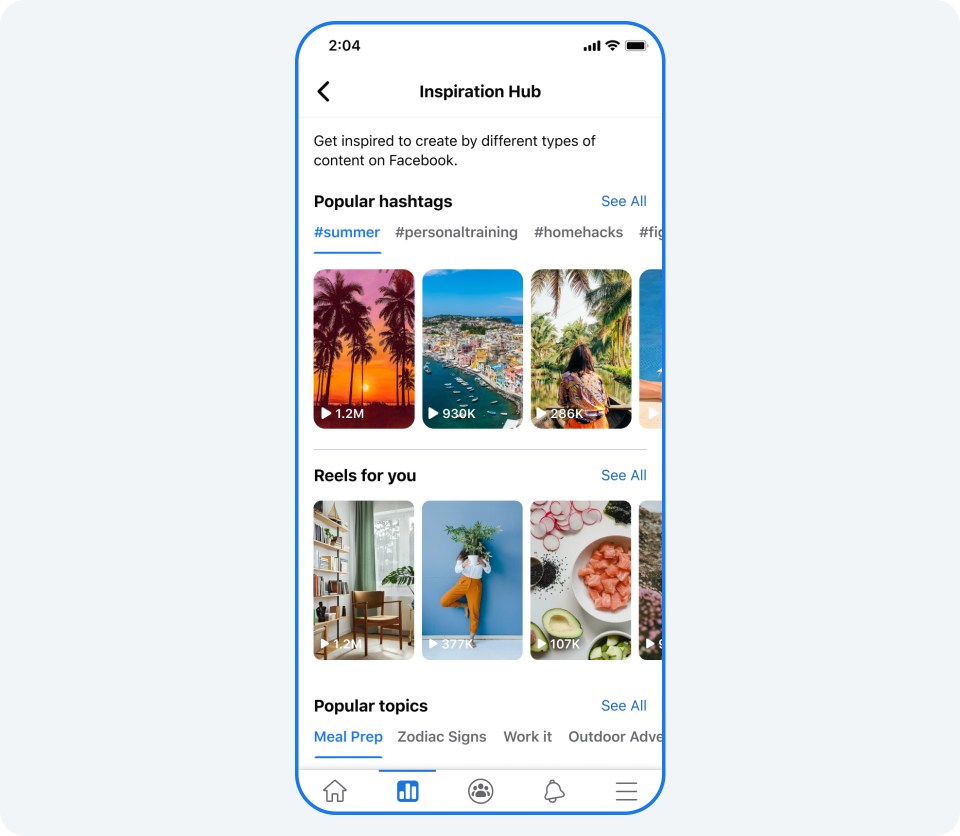 Editing reels on the Facebook mobile app is also getting a lot easier. We've brought together audio, music and text into a unified editing screen, making it easier to layer and time the various creative elements of your reel exactly how you want them to appear.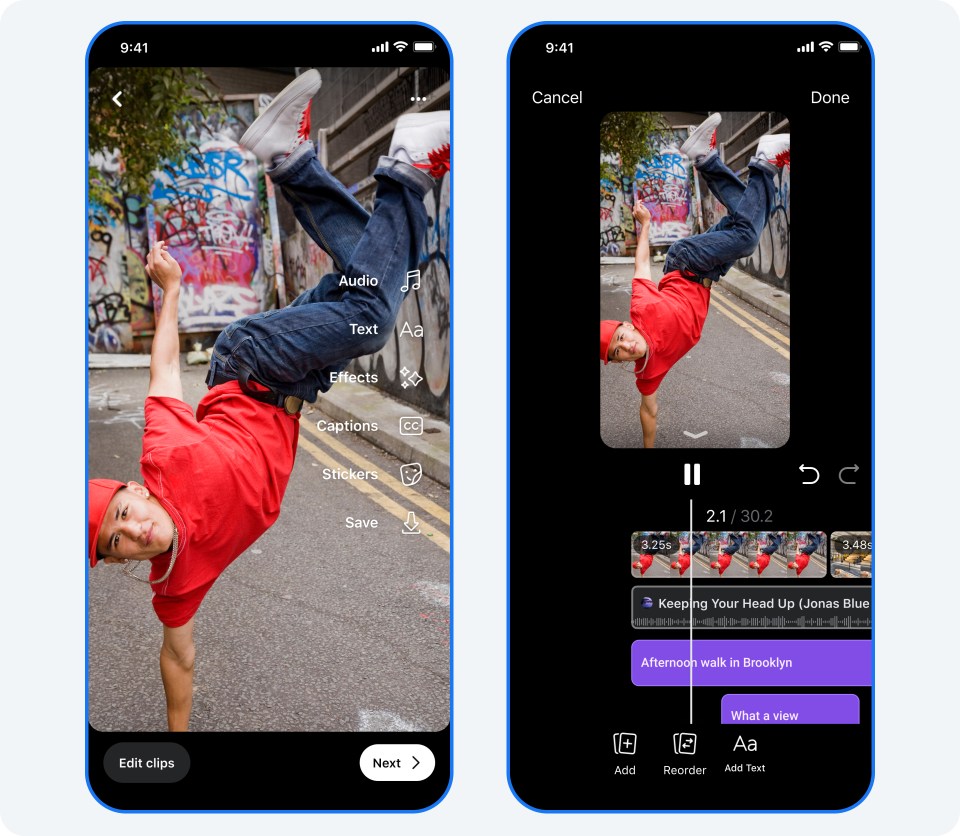 And starting in the coming weeks, when creators upload long-form videos or finish a Live on mobile or desktop, they can create a reel clipped from the original content that links to the original video. For Lives, we've updated our Clips to Reels feature so Facebook will help automatically select the highest quality clips from the Live, and reformat them into a reel that creators can easily publish.
New ProMode Features to Help Creators Grow Their Following
Professional mode lets anyone become a creator using the profile you already have on Facebook. In the six months since it expanded globally, tens of millions of creators have started using it, unlocking audience growth and monetization opportunities as well as professional tools. 
ProMode also includes a daily checklist module with tips to help creators grow their audience. This builds on the education resources and tools we recently shared for ProMode creators.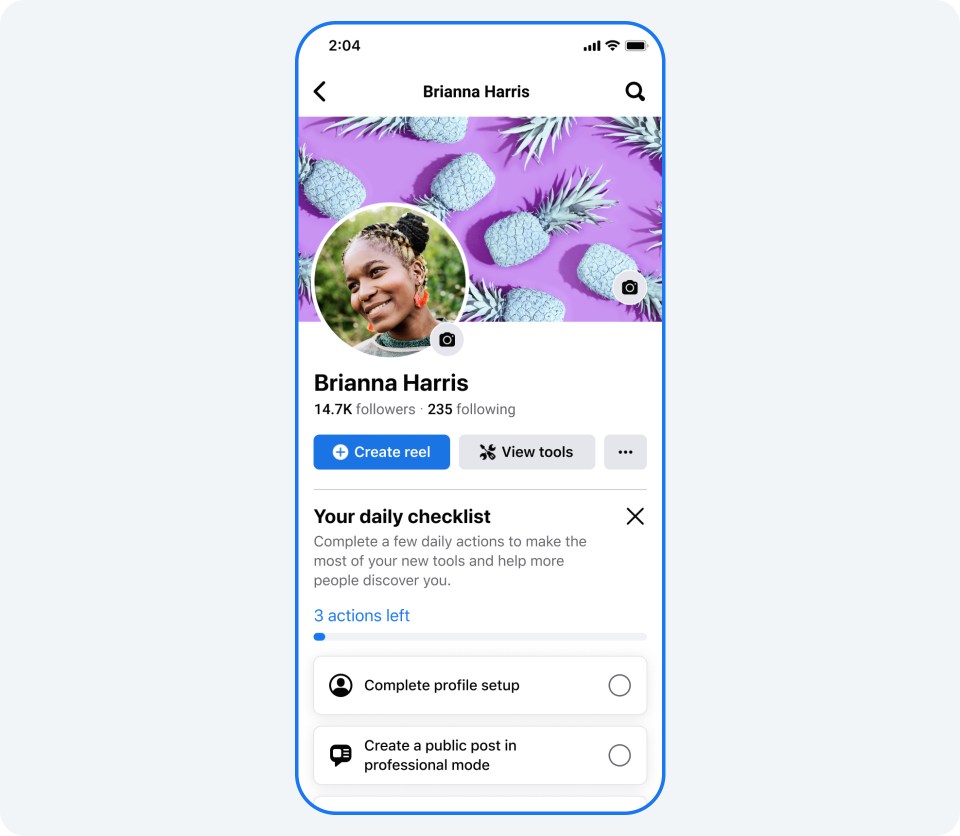 ProMode creators can now appear in the Creators to Follow unit in Feed to get discovered by more people. And when ProMode creators comment on public posts, a follow button may appear by their name so they can attract new followers through conversations. And ProMode creators can now use ads to boost their Reels to reach new audiences.
More Insights to Help Guide Content Creation
Professional Dashboard continues to be a hub for insights, tools and professional resources for ProMode and Pages creators. 
Now, we're bringing reels insights that were previously only available on Meta Business Suite to Professional Dashboard. These include Page and profile-level reels insights on reach and interactions; and individual reels insights such as new followers attributed to a Reel, distribution health, and retention graphs showing how long viewers watched. 
In the coming weeks, we'll also roll out new metrics on Professional Dashboard that will show creators how their accounts are performing at a more granular level, including levels of interaction and consumption by format, as well as by followers and non-followers across all of their content. In addition to net followers, creators will also see how many followers they gained and lost in a specific time frame.
More Ways To Earn Money on Facebook
We're testing the ability to cross-post Instagram branded content reels and stories to Facebook, increasing campaign reach and impact. On Facebook, we've reduced partnership ads eligibility requirements, so that creators using Pages can give their brand partners permission to run ads from their Facebook Page. 
We're also continuing to invite more creators to our Performance bonus program that rewards creators for garnering strong engagement with their content on Facebook. And we're introducing extra bonuses so creators can earn more.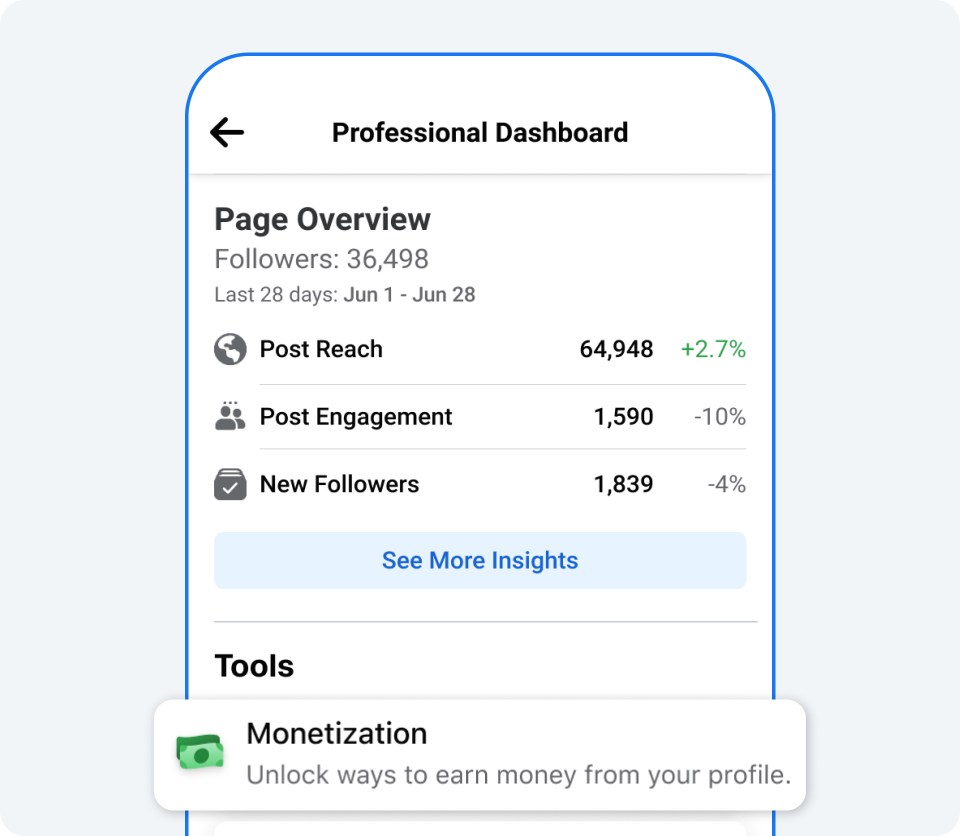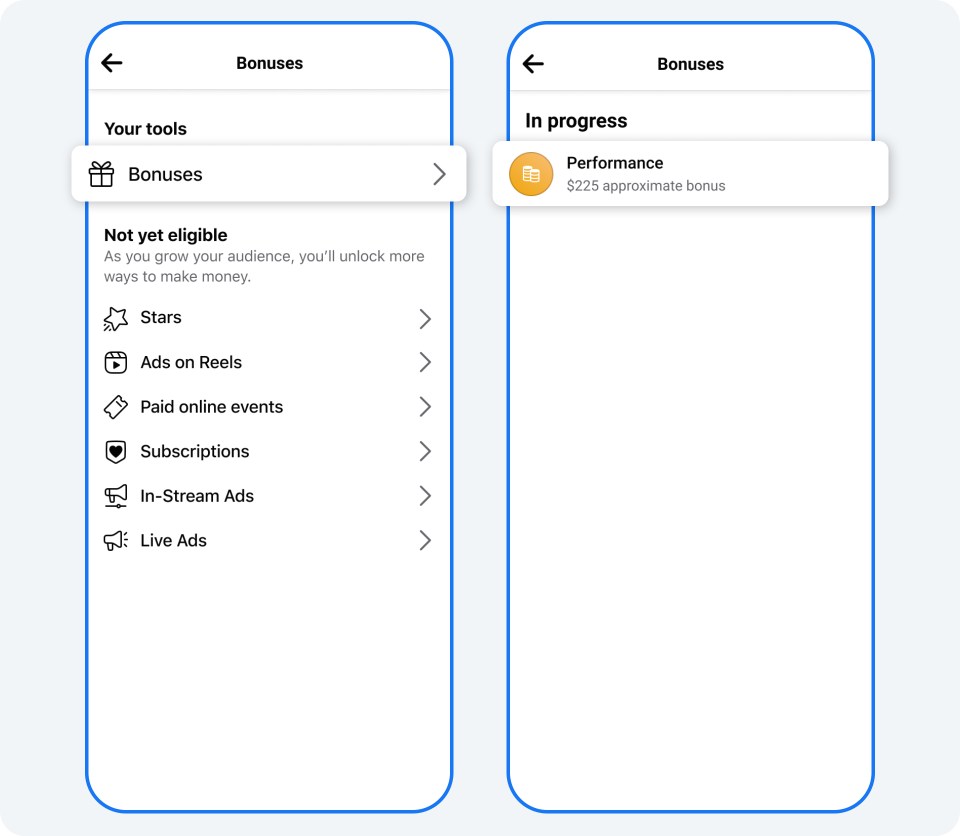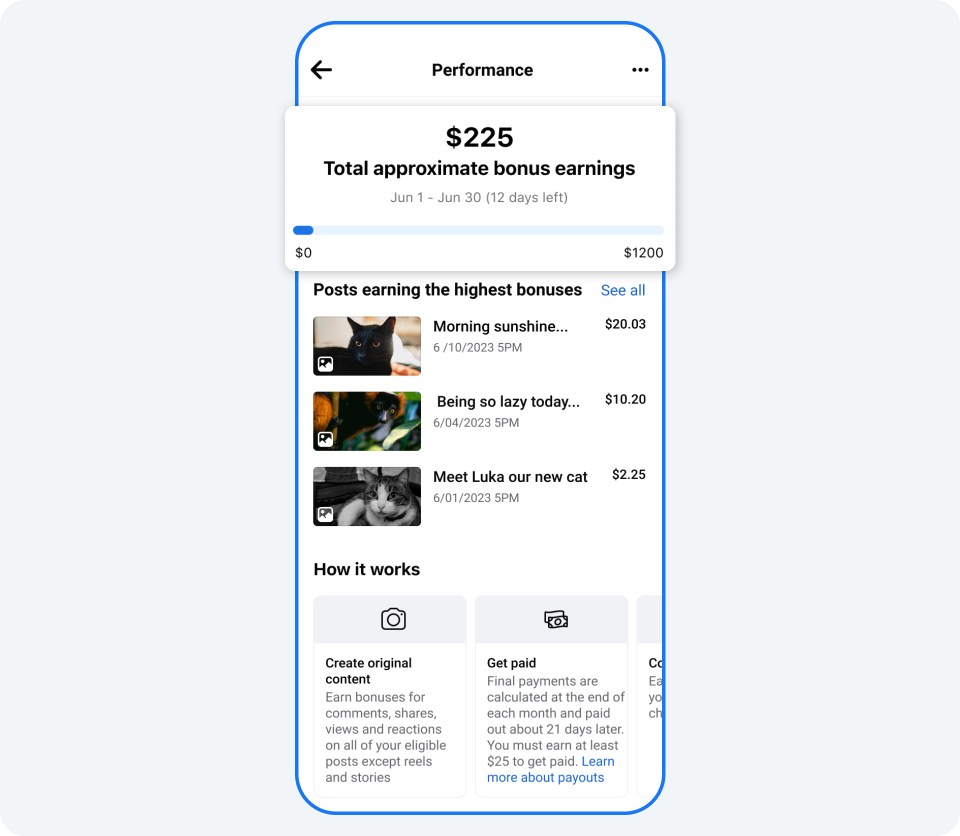 We've lowered some of the monetization eligibility requirements for Stars so that more creators who are just starting out can earn money through the support of their fans. Now creators must have 500 followers (down from 1,000) over the past 30 days (down from 60). 
And finally, in May we announced updates to our Ads on Reels tests that included a new payout model and expansion to more creators. Soon we'll begin a limited test in which select creators can monetize reels that include licensed music from the Facebook Audio Library. Eligible creators will be notified in the Facebook app and we hope to roll out more broadly over time. 
Learn more about how we're helping creators grow their audience, easily create content and make money on Facebook.
The post Helping Creators Get Discovered and Earn Money on Facebook appeared first on Meta.