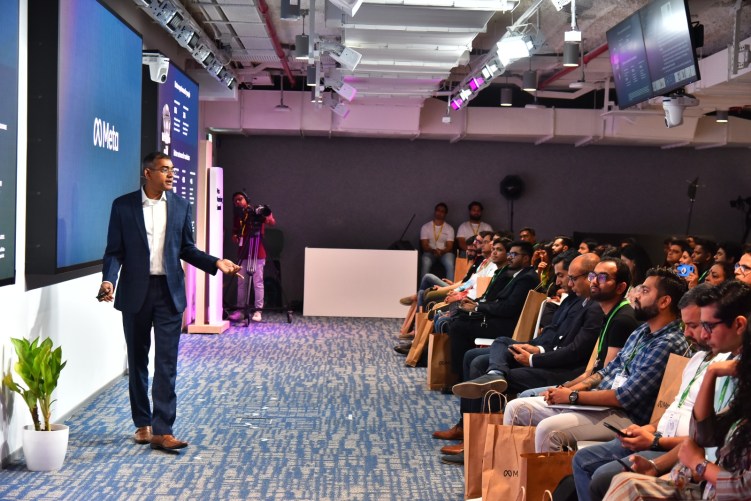 At the Meta Marketing Summit in our Mumbai office yesterday, we shared insights for this festive season, based on a study by YouGov commissioned by us. Among others, insights show how personalized content through ads on social channels is becoming more important for shoppers, how they seek online content in their local language and how engagement with online video is happening increasingly through our platforms. 
The study* gives an understanding on how consumers are discovering products and services, shopping, and celebrating festivals like Diwali and beyond. Ahead of this year's festivities, we share this report for marketers to take into consideration, while working on their campaigns.
"The festive season is always a time when businesses are gearing up for heightened consumer demand and marketers are looking at effective ways to tap this demand. Our festive insights will help in this regard, along with the reach of our platforms, the highly engaged audience on it and our ongoing investments in Reels, Business Messaging and in technology like AI." – Arun Srinivas, Director and Head of the Ads Business, Facebook India (Meta)
Key Insights From The Meta Commissioned Study By YouGov: 
Personalized content through ads on social channels is becoming more important for Diwali shoppers

, with 69% agreeing that it was easier to complete their Diwali shopping with personalized products and gift suggestions on Facebook and Instagram. 

Diwali shoppers seek online content in their local language

. 76% of Diwali shoppers prefer to see advertising in the local language, growing significantly year-on-year. 

Engagement with online video  happens on Meta technologies

. 8 in 10 Diwali shoppers use Meta technologies to watch videos. Meta technologies is the most important channel for short form videos (87%) and  creator content (79%). 

Influencer and creator content influences purchases

, as 66 % of Diwali shoppers agree that creators influence their purchase decisions. 

Business  Messaging continues to grow in India during Diwali

. 8 in 10 shoppers used WhatsApp (64%), Instagram (39%) and Messenger (38%) to engage with a business during  Diwali. 66% of Diwali shoppers are more likely to consider purchasing from a business if they can contact them via instant messaging. 

AR & VR are valued

during Diwali. There is a noticeable increase in the proportion of Diwali shoppers likely to use AR andVR tools to explore products. 3 out of 5 shoppers feel AR experiences help get them into the Diwali spirit, and ultimately help their purchase decisions.

Raksha Bandhan and Dussehra offer sales potential that nearly match Diwali.

In addition to Diwali, almost 8 in 10 also shopped for Raksha Bandhan and Dussehra in 2022.
These insights will be shared at the Meta Marketing Summit across cities, along with conversations on topics such as unlocking performance through automation, establishing deeper connections with businesses messaging and supercharging outcomes with Reels ads. The Summit is a series of invite-only events, hosting marketing leaders and industry experts. The events commenced in Mumbai yesterday, and will take place in Delhi, Bangalore and then Goa. 
Follow #MetaMarketingSummit2023 to follow all conversations from the Summit.
*YouGov surveyed 1,523 adults in India between the 23th October and 9th November 2022, for the purpose of these insights.
The post Insights To Help Drive Festive Growth This Season appeared first on Meta.