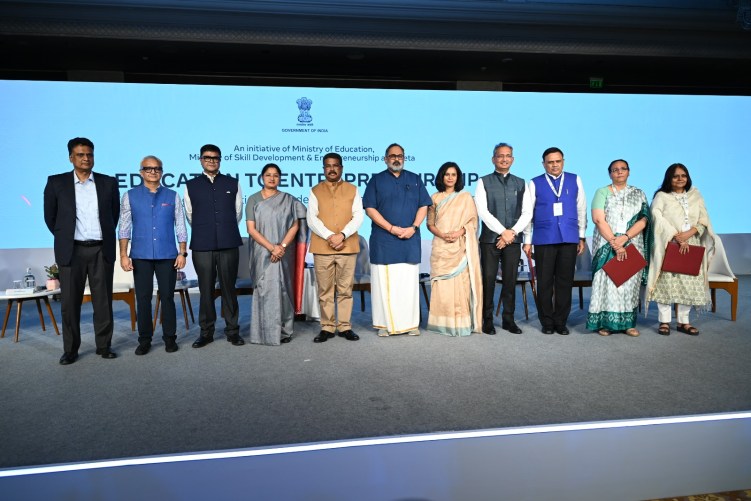 To bring together our work across education and skilling, mapping the journey of India's students from the classroom to the workforce, we have announced a three-year partnership with the Ministry of Education, and the Ministry of Skill Development and Entrepreneurship to empower students, educators, and entrepreneurs across India. 
Under the partnership, we have signed three Letters of Intent (LoI) – with the National Institute for Entrepreneurship and Small Business Development (NIESBUD) which is engaged in training, consultancy and research to promote entrepreneurship and skill development in India, the All India Council for Technical Education (AICTE), a statutory body, and a national-level council for technical education, under the Department of Higher Education and the Central Board of Secondary Education (CBSE), the national level board of education in India for public and private schools. 
"Education to Entrepreneurship' partnership is a game-changer, which will take Digital Skilling to the grassroots. This will build capacities of our talent pool, seamlessly connect students, youth, workforce & micro-entrepreneurs, with futuristic technologies and transform our Amrit Peedhi into new-age problem solvers and entrepreneurs. India's democracy, demography, and diversity are to be connected with technology conversion so that technology becomes the equalizer for the entire society. Guided by the tenets of NEP, META's partnerships with NIESBUD, CBSE & AICTE will catalyse infinite possibilities for equipping our population with critical digital skills and empowering micro entrepreneurs and small businesses." – Shri Dharmendra Pradhan, Union Minister for Education and Skill Development and Entrepreneurship 
"The Government's focus on preparing our youth and workforce in these rapidly transforming times, to be equipped with the skills to succeed and play important roles in the evolving landscape of technology and the global economy. Digital skills, while representing skilling and entrepreneurship in the innovation ecosystem, more importantly represents a bridge between lakhs of small rural, micro and self-employed entrepreneurs, enabling them to expand, grow and succeed." – Shri Rajeev Chandrasekhar, Minister of State for Electronics & Information Technology, and Skill Development & Entrepreneurship
"India's G20 Presidency has showcased its success in its digital transformation initiatives. Meta has partnered with several working groups and agencies to advance India's G20 priorities, from job creation, promoting creator economy and skill development to user safety and education. To build further on the partnership in the year of India's presidency of G20, this collaboration with the Ministry of Education and Ministry of Skill Development and Entrepreneurship is yet another testament of our long-term commitment to partnering with the government to advance India's agenda of digital inclusion, skilling and growth and aligns with our values of building communities and bringing the world together." – Sandhya Devanathan, Head & Vice President, Meta in India 
Advancing Entrepreneurship Program with NIESBUD
Under the partnership with NIESBUD, one million entrepreneurs will get access to digital marketing skills by Meta over the next 3 years. Further, budding and existing entrepreneurs will be trained in digital marketing skills using Meta platforms: Facebook, WhatsApp and Instagram in 7 regional languages. 50 impact stories from regional languages will be identified. Federation of Indian Chambers of Commerce & Industry (FICCI) and Confederation of All India Traders (CAIT) will be the implementation partners for the initiative.
Emerging Technology in Education
Meta launched the Creators of Metaverse program with AICTE earlier in July this year, whereby 100,000 students and 20,000 educators will be enabled in AR,VR, AI and XR technologies. Further, a 2-year AVGC-XR-AI diploma course to be introduced for students across AICTE affiliated colleges. Meta will continue providing end-to-end training and upskilling support for students and teachers and to help build curricula on AI, AR, and XR technologies. The course will help the Animation, Visual Effects, Gaming and Comics (AVGC) sector to upskill students preparing them to be job ready.
Meta also has an ongoing partnership with CBSE that commenced in December 2021, whereby 10 million students and 1 million educators will be trained in AR, VR, AI, and Digital Citizenship. Meta will continue providing end-to-end training and upskilling support for students and teachers until 2026.
Earlier this year, Meta also partnered with the National Skill Development Corporation (NSDC) and the Ministry of Skill Development and Entrepreneurship for a G20 event showcasing innovations in skilling and the role of advanced technologies (VR & AR) for skill enablement.
The post Investing To Advance The Future Of Education & Skilling In India appeared first on Meta.