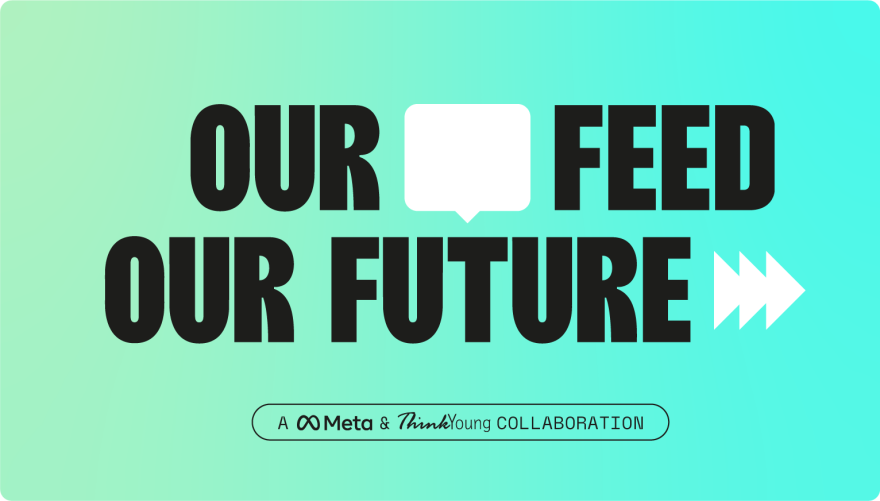 Today, we are launching Our Feed Our Future,  with Think Young to bring together a network of young people from France, Germany, Spain, Belgium, Denmark and Italy to share their thoughts on what a digital future should look like. 
"We are very proud to take our partnership with Meta to the next level, empowering young people to have their say in the future of the digital world. Since our foundation, one of ThinkYoung´s core objectives has been to make sure decision-makers are aware of young people's opinions. Our Feed Our Future will do exactly that, making young voices heard to make sure we build safe and empowering online experiences that work for young people."
– Andrea Gerosa, Founder of ThinkYoung
Together with parents, industry leaders and experts, the young and impassioned creators  will partake in conversations about how regulation can help build safe and empowering online experiences, with a focus on the impending EU Youth Code. These young members will bring fresh perspectives and have their voices heard by regulators making key decisions about their digital future.   
The Our Feed Our Future team will also be supported by our Expert Network made up of  psychologists, wellbeing experts, youth and social media researchers from the UK, France and Spain. We will also engage and mobilise parents to reflect, discuss and advocate for safer platforms for young people.  
The Our Feed Our Future team biographies:
Sonja is a video creator and influencer, boasting a larger following on TikTok than Instagram. Her Instagram followers, however, enjoy a deeper connection with Sonja, often engaging through direct messages and comments on her shared content and ideas. Sonja campaigns for more online mental health resources for young people, she is an active supporter of the The sunflower program that advocates for inclusion and accessibility for individuals with invisible disabilities. Sonja addresses topics like body positivity, self -love, mental health, sexuality and LGBTQ rights. In her content she is often bringing up online bullying and the unrealistic "culture of perfection" on social media platforms. Large part of her followers are young people aged 13 to 18, who appreciate Sonja's candid reflections and openness to discuss difficult topics. 
Instagram: 7.8K followers

TikTok: 133.5K followers

Key topics: body positivity, self -love, mental health, LGBTQ rights
A 21-year-old celebrity news reporter uses social media to provide insights on celebrity-related content. Her personal posts frequently focus on fostering like-minded communities, uniting individuals, and emphasising the value of being heard and appreciated. Her primary audience comprises young people who not only enjoy her unique approach to celebrity news but also resonate with the idea of being part of something bigger. 
Instagram: 21.6K followers

TikTok: 257K followers

Key topics: celebrity news, fashion, lifestyle, self expression and sense of community
Gaetan transformed his experience with bullying into a successful career as an influencer, specialising in comedy sketches. He believes young people shouldn't have to bear the brunt of harassment alone and champions the creation of safe spaces for open discussions. Having received countless messages from those unable to confide in teachers or parents, he recognises the potential of online platforms to provide much-needed support. 
 Instagram: 150K followers

TikTok: 387K followers

Key topics: mental health, bullying, self-acceptance
Chiara is an inspiring video creator with a significant presence on Instagram and TikTok. She is currently working on her book, "Think Loud," which is a glimpse into her personal experiences and life's journey. With a dedicated following, Chiara has cultivated a supportive community that deeply connects with her. Through her interactive account, she fearlessly addresses important topics such as self love, mental health, empowerment and nutritional disorders. Her content sparks meaningful conversations and encourages personal growth among her engaged audience. Chiara's unique blend of creativity, authenticity, and empathy has established her as a respected figure in the online space. Her engaging approach invites active participation from her followers, creating an environment where personal growth and empowerment thrive.
Instagram: 55K followers

TikTok: 41.2k  followers

Key topics: mental health, body positivity, self love
Our Feed Our Future is just another step in our ongoing commitment to young people, ensuring their voices are heard so that they help shape their digital futures.
The post Launching Our Feed Our Future, a Youth Advisory Network in Partnership with Think Young appeared first on Meta.