As part of our ongoing partnership with suicide and self-injury experts in India, we developed a  video that will appear above the existing set of resources to better orient people to our in-product crisis support resources. The video acknowledges the difficulty of experiencing acute distress and encourages people to seek support using tools available on our apps as well as external partner resources in India.
When someone is expressing thoughts of suicide or self-injury, it's important to get them help as quickly as possible. For years, Meta has used AI and machine learning to detect and support Facebook and Instagram users who may be signaling they are in crisis. We currently support users by prompting them to: 
Speak privately with a trusted friend 

Connect with trained volunteers via national and local crisis support hotlines

Try tips from mental health experts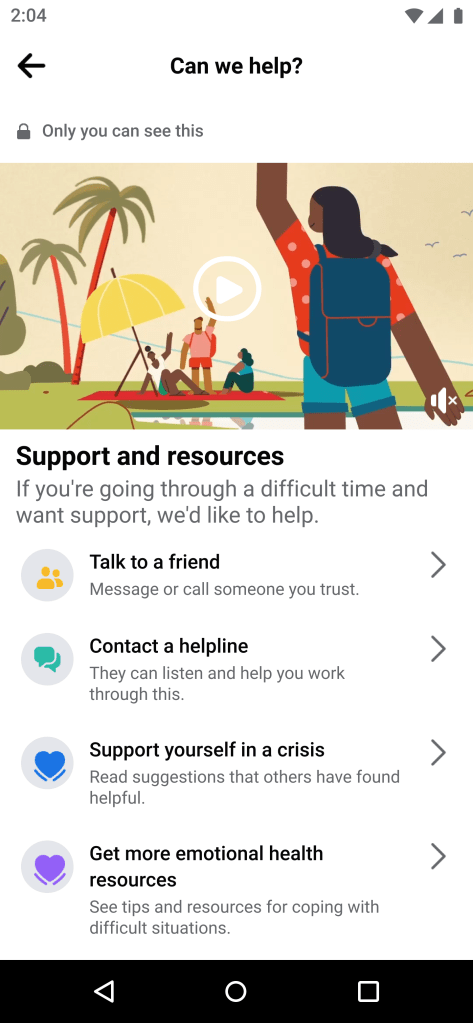 The video was developed in close collaboration with leading Indian mental health and suicide and self-injury experts including Aparna Joshi, PhD (Tata Institute of Social Science, Samir Parikh, PhD (Fortis), Manoj Sharma, PhD (NIMANS), and Nelson Moses (Suicide Prevention India Foundation).
Over the past several years, we've developed new tools and taken initiatives to provide a safer online experience and we will continue to work closely with external experts and partner organizations to explore more ways to support the people who use our platforms every day. For more information, visit our Suicide Prevention Hub on the Meta Safety Center.
The post New Suicide and Self-Injury Crisis Support Feature Added in India appeared first on Meta.