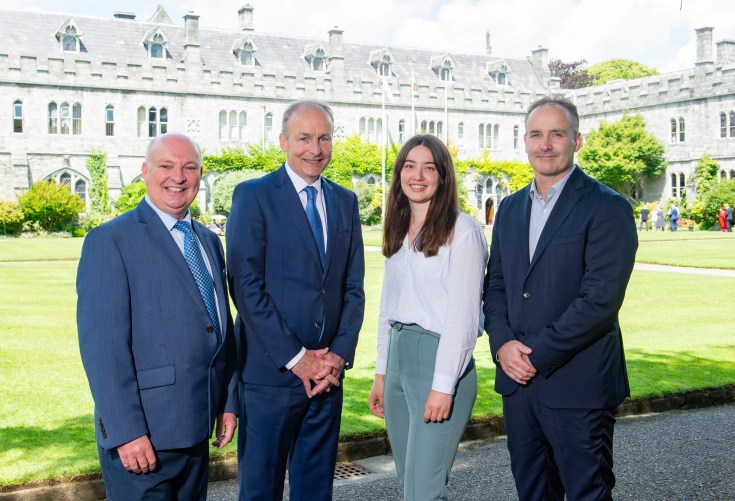 We have agreed to a four-year programme of research led by Tyndall's Professor Paul Hurley, recently appointed as Meta's Industrial Chair in Semiconductor Technologies at Tyndall and the School of Chemistry at UCC. 
The announcement was attended by Tánaiste, and Minister for Foreign Affairs & Minister for Defence Micheál Martin at UCC this week.
This appointment demonstrates our world-class research efforts in the core technologies underpinning the broad adoption of Augmented Reality (AR) platforms, and the strategic importance of its Irish research teams collaborating with Tyndall in Cork.
Speaking in UCC, Tánaiste Martin said, "I want to warmly welcome this significant investment by Meta in the work carried out in UCC and Tyndall. Such a partnership involving a world-leader like Meta is a huge vote of confidence in the leading research taking place here in Cork."
Professor Hurley will lead a multi-disciplinary research team, including the appointment of a cohort of Tyndall PhD students, to help advance the state of AR technology alongside Meta.
Speaking about this agreement, Pádraig Hughes, Head of Reality Labs at Meta in Cork said: "We're delighted with the appointment of Professor Paul Hurley as Meta's Chair to advance research in miniature light display technologies for Augmented Reality. It is a testament to the calibre of Irish academic research, and in particular the research that Paul is leading at the Tyndall National Institute."
 "The optoelectronic efficiency of ultra-scaled devices such as micro LEDs is dominated by surfaces and interfaces. The goal of this research engagement with Meta is to investigate heterogeneous systems and determine their impact on efficiency, further informing critical technology adoption in future products." – Professor Paul Hurley
"Meta's work with Tyndall will further develop our semiconductor research programme and hopefully lead to new advances in display technologies and product innovations for the AR sector. The work further strengthens Ireland's strategic importance to Meta and in particular, Tyndall's research excellence in semiconductors and photonics." – Professor William Scanlon, CEO, Tyndall National Institute
"I want to congratulate Professor Hurley on his appointment, and Tyndall and Meta on this exciting research endeavour. This collaboration is testament to the world-leading research taking place at both Tyndall and UCC, where we place an emphasis on translating the outcomes of our exploration into solutions for the real-world challenges facing us all." – Professor John O'Halloran, President, UCC
The post Partnering with World-Leading Research Institute Tyndall in Ireland to Advance AR Technology appeared first on Meta.