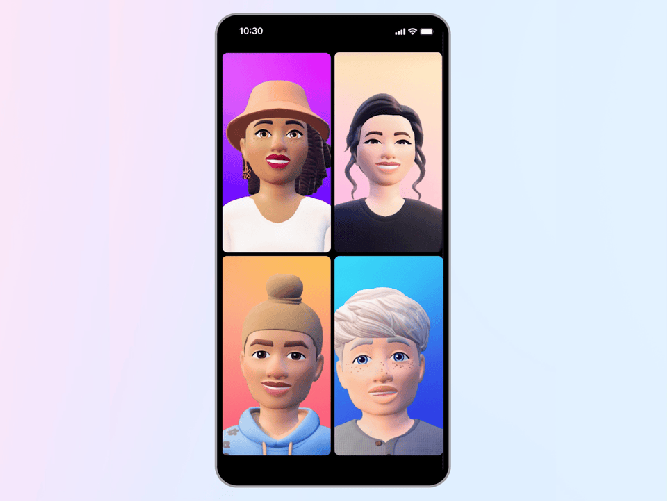 Whether you're Instagram famous, a casual doomscroller, or an adventurer about to head off on some daring VR exploits, your Meta Avatar lets you represent yourself seamlessly and hang out with others across the metaverse. More than a billion Meta Avatars have been created to-date, helping people express themselves in digital spaces in new ways. And today, we're sharing some updates that make your avatar more fun, useful, and social than ever before.
Can You Hear Me Now? Real-Time Calling With Avatars
We've all been there: A call comes in but your hair looks like a hot mess. Or you've just been bawling your eyes out while re-watching From Scratch for the umpteenth time (no judgment). Sometimes, we're just not camera-ready.
Wouldn't it be great if there were a third option between camera-off and camera-on to let you feel a little more present on the call?
Cue your Meta Avatar. For the first time, we're giving people using Messenger and Instagram access to real-time calling with Meta Avatars. Android or iOS, we're phone agnostic. And if you haven't called your friends as a llama, have you really even lived?
Get in the Groove: Animated Stickers
Avatar stickers have always been a great way to liven up a conversation, but sometimes a static image just feels a little… flat. Whether you want to give someone a thumbs up, applaud a witty one-liner, or facepalm when sharing an embarrassing story, we wanted to put a little more action in those action verbs and truly bring your convos to life.
You can share animated avatar stickers in Instagram and Facebook Stories and Reels, Facebook comments, and 1:1 message threads on Messenger and Instagram. From a jaunty wave hello or a slow clap of approval to showing off your avatar's dance moves, there are plenty of ways to put your personality on full display.
Better With Friends: Social Stickers
Avatar stickers are a great way to express yourself, but much like selfies, sometimes solo self-expression can get a little lonely.
Luckily, also like selfies, avatar stickers can now be a social activity! @Tagging lets you add a few friends to Facebook Stories, so you and your friends' avatars can hang out and do things together in the metaverse just like you do IRL. And you can share your social stickers of you and a single friend in 1:1 message threads to crack an inside joke, relive a shared moment, or just enjoy a sense of togetherness, even when you're apart.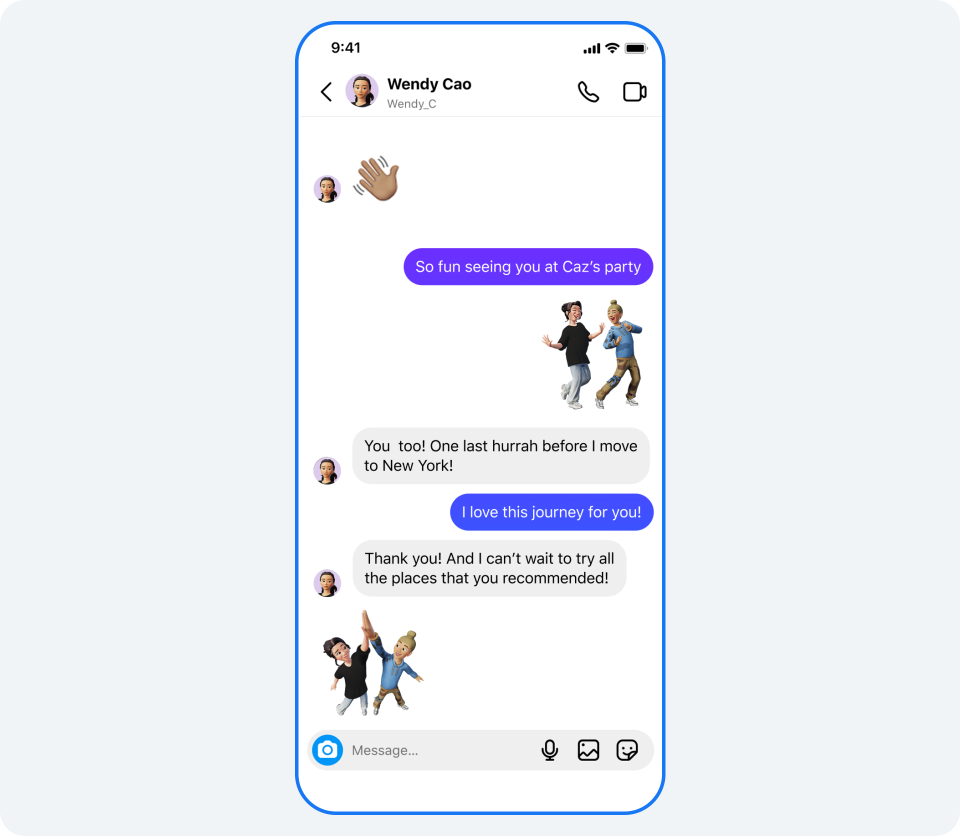 Avatar Creation in a Jiffy
Meta Avatars help people express themselves in digital spaces in new ways. And now, it's even easier to make one. We're testing a new feature on Facebook and WhatsApp where you can take a live selfie and in seconds we'll give you a suggested avatar option generated from your selfie. You can pick from these options and further personalize them to best represent yourself, making avatar creation much easier and faster. This is a long-term process (think more SATs, less pop quiz), so we'll keep testing, refining, and improving this feature over time.
Sporting New Looks
You may have noticed that our VR avatars look a little different than those across Meta's family of apps — the proportions are a little more, well, proportional. No one wants to look like a cake pop, and now, you don't have to. We're standardizing the look of our avatars across all our platforms, so the way you show up in VR will match how you show up on Facebook, Instagram, Messenger, and WhatsApp.
Not only does that mean your avatar will look a little more realistic, it also means you'll be better able to show off your 'fits since the focus won't be drawn to your comically oversized noggin.
And we're continuing to bring the brands you know and love into the experience for some killer new looks. We added another luxury brand to the Avatars Store this summer with the launch of six Valentino outfits and one stellar pair of Valentino Garavani VLogo Signature earrings. The virtual collection features the brand's signature Pink PP color, as well as items with the iconic pattern Valentino Toile Iconographe. We're also partnering with Capcom to bring styles symbolic of various characters in Street Fighter 6 (Chun-Li for life!) to the Avatars Store. And finally, we're gearing up for this summer's soccer matches on the world stage by launching the US Women's National team's home and away kits.
Social and stylish, fashionable and fun, no matter how you slice it, avatars give us a glimpse of the opportunities for self-expression that will be afforded by the metaverse. Stay tuned for even more avatar news in the months ahead as we work to make Meta Avatars more fun and useful than ever.
The post Real-Time Avatar Calls for When You're Not Camera-Ready and More appeared first on Meta.